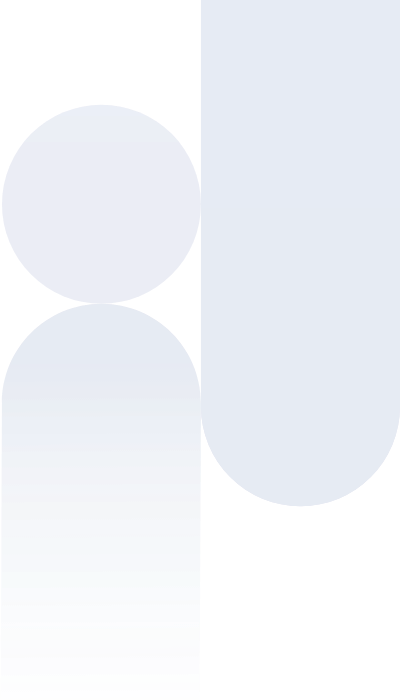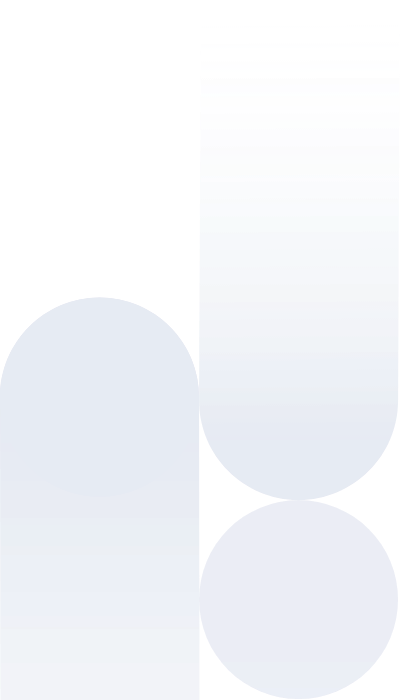 Our Vision for Fabs
Put the Right Intelligence in the Right Context—Right at Your Fingertips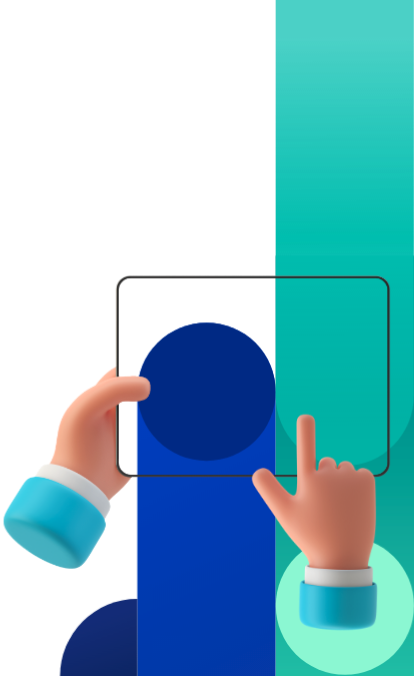 Why Do You Need Fabscape?
Because the greatest value is not in learning how each tool is performing individually—it's in learning how all the tools are performing together.
Technology is advancing, precision is paramount, and there is no room for error. The future of fab performance lies in cross-vendor equipment performance monitoring, powered by the depth of data intelligence that only vendors themselves can provide.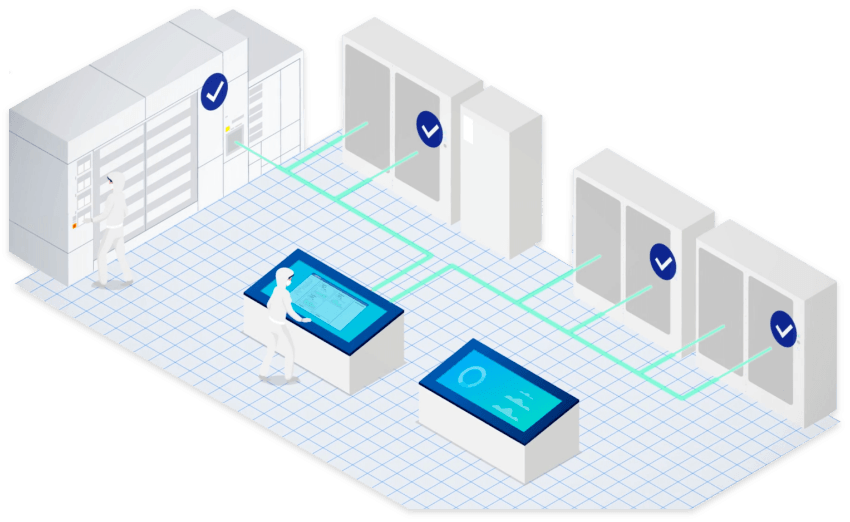 Generate More Uptime and More Output With Collective Industry Intelligence
Fabscape is the only platform that securely synthesizes vendor-specific data intelligence across every tool in the fab to enable unprecedented cross-vendor equipment performance monitoring.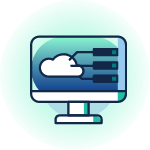 Gain critical new insights for maximizing precision and efficiency by analyzing the collaborative performance of all of your tools.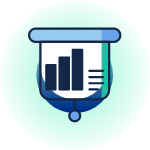 Solve the right problem, right away, by quickly identifying which tool is the source of the issue.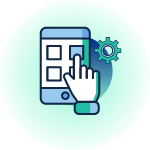 Get the insights you need in hours—not weeks.
Improve Equipment Performance With the Most Advanced Analytics
It's no longer enough to learn "what happened." Fabscape powers precision with the depth of insight that only vendor-specific data intelligence can provide. Get accurate insights into why it happened, when it will happen, and how you can improve your processes.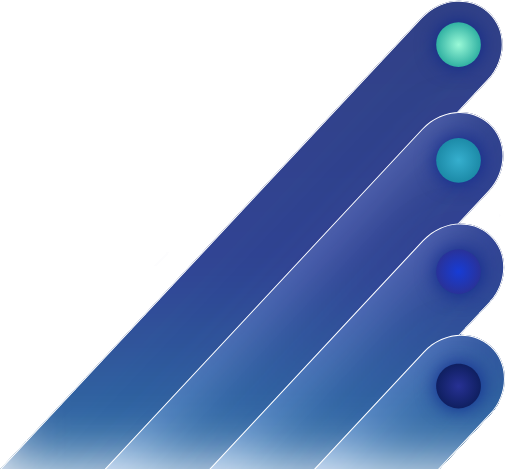 Prescriptive
HOW can I improve my process?
Learn how to optimize your processes across the entire fab for the most efficient and precise performance.
Predictive
WHEN will it happen?
Get ahead of the problem by synthesizing vendor-specific AI predictions across your fab for accurate predictive intelligence.
Diagnostic
WHY did it happen?
Learn from past problems and gain critical insights into how the collaborative performance of multiple tools may have contributed.
Descriptive
WHAT happened?
Translate raw data into useful information.
Accelerate Your Insights With the Fabscape Community
Keeping pace with worldwide demand for output and speed means you can't wait for the intelligence you need. Get answers quickly by downloading extensions from the community or creating your own. We work better together.
Get the deepest insights within hours by installing vendor-developed extensions.
Meet your unique needs and contribute to the community by developing your own customizations—use any language you know, or port code from your other projects into Fabscape.
Leverage the experience of others who have already solved similar problems by downloading secure extensions developed by your peers.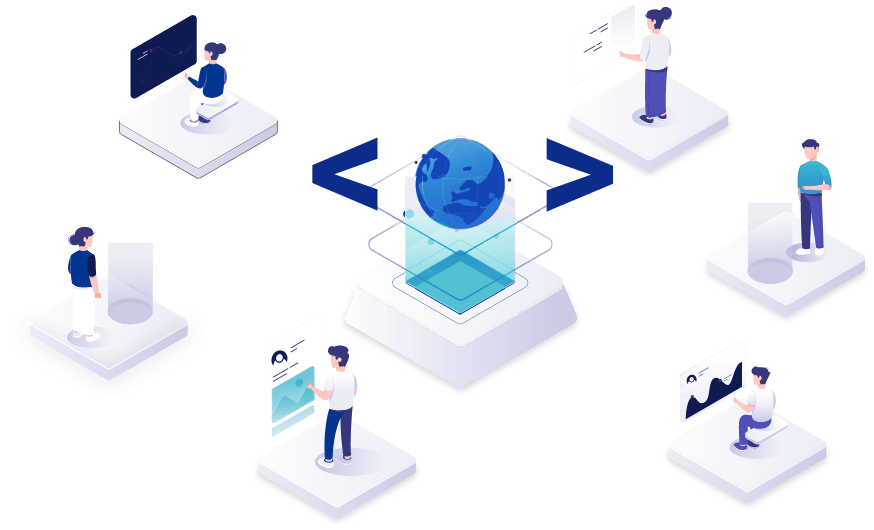 See Your Data Your Way
Your data platform should adapt to your processes, not the other way around.
Customize the Fabscape platform to target the specific information and analytics that are important for your operation.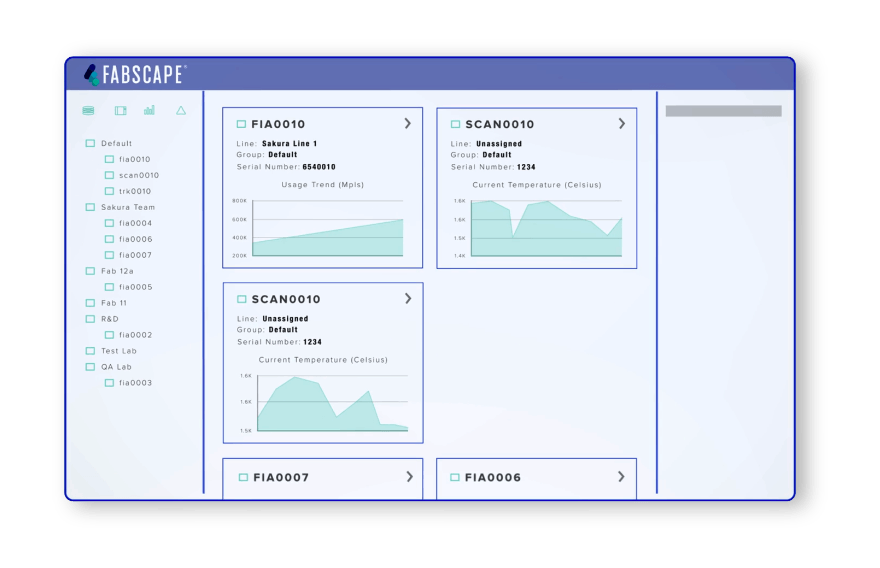 Simplify With One Secure Place for Everything
More data should mean better insights, not more obstacles.
Perform all of your necessary analytics, fault detection, optimizations, and team communications on a single easy-to-use platform.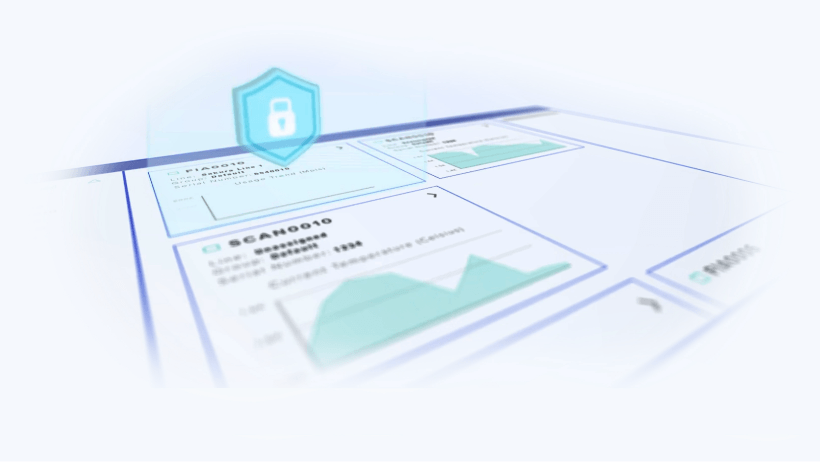 Additional Features for Fabs

Communication Tools for Your Team
Fabscape comes with chat and other messaging tools to collaborate with your entire team, all in one place.

Team Administration
Easy access and permissions management for every project and every team.

Customizable Visualizer
Use the Fabscape visualizer—it's customizable and complete. Or, create your own console to meet your specific needs, or feed Fabscape extensions into your existing visualizer.

Security
Your proprietary data stays secure. Fabscape can be installed and run on-premises and doesn't rely on cloud-based technologies. The microservice architecture keeps each component contained in its own sandbox.

Flexible Customization Options
Communicate with gRPC and REST APIs or add your own.

Optimize With AI
Build AI plugins to optimize your processes over time. Generate opportunities to increase efficiency, extend the life of your tools, and predict and diagnose points of failure.

Quick Installation of Plugins and Drivers
Docker containers enable hot installation of the extensions you need, without rebooting your system.

Flexible Development Environment
Fabscape provides custom data access and processing definitions through protocol buffers. This allows you to create custom features for your fab by developing your own extensions using any programming language you know or by porting your existing code from other projects.
Sophisticated Analytics, Simplified